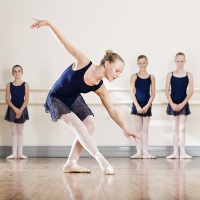 If you do not like going to the gym to do aerobics, cardio exercises or other exercises, try to dance.
With dancing, people can burn 500 calories.
Besides moving, dancing can also be pumped endorphins to the brain, the hormone that makes people feel happy.
Dancing is fun and enjoyable way to make the body healthy.
Quoted from GeniusBeuty, some kind of dance that can make the body stay fit and healthy:
1. Hip hop
Hip hop is a fun and free dance, enabling people to do improvisation and chance to become anything. Hip hop dance at the same time make people exercise in the same time. Hip hop including aerobic and cardio exercises that can burn many calories, improve the system and also develop the muscles.
2. Ballet
With a beautiful and elegant movements, ballet dancers can lose weight and strengthen muscles during exercise. Ballet demands precise control and faster in almost every muscle in your body, making the spine straight, and makes the stomach, buttocks and legs tight.
3. Belly dance or belly dance
Belly Dancing is an effective fitness activities. Belly dancing can help reduce the size of the hips and buttocks, a flat belly and strengthen your arms and back muscles effectively. Belly Dancing can also eliminate cellulite, prevent excess water in the body and useful for women's health, such as developing the core muscles of the pelvis properly.
4. Latin dance
Latin American dances such as Salsa, Rumba, Cha cha cha has formed the basis for one of the dance club of the most popular trends. Latin dance can make the body fit with the developing muscle, from the hips, waist and arms.
5. Aerobic Dance
In the dance aerobics, exercises designed for deeper intensity to the dance movements and rhythms, so you can dance and exercise at the same time. This dance will improve posture, burn fat, flexibility and agility in motion.