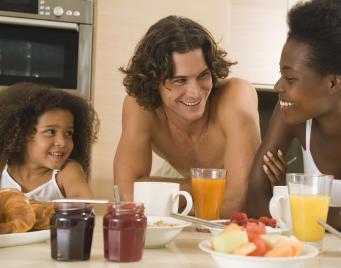 Post-holiday weight gain is common. You can begin to control the intake of food with a healthy breakfast.
If you usually have breakfast with heavy foods, now is the time to replace that menu with a simple menu but no less filling. Contents of wheat bread with eggs, bacon and lettuce is the best choice.
Avoid foods that contain too much sugar because it will quickly make you drowsy. If you're a fan of donuts, it's time to replace these foods with sweet rice cereal, milk, raisins and mixed nuts. Add honey to give a natural sweetness.
If you do not have enough time for breakfast. Provide oatmeal available in the packaging. Oatmeal contains many carbohydrates are not fattening because it is rich in fiber. By eating oatmeal then the stomach will feel full faster and you can survive for a long time to do the activities without feeling hungry.
You can be creative with oatmeal. Combine pieces of fruit such as strawberries, grapes, bananas or kiwis into a bowl of oatmeal. If you want to taste more interesting, you can put low-fat ice cream on top.
Make a healthy breakfast is not easy. If you are a busy woman, you should plan breakfast menus that will be created when the weekend. That way you will not be in a hurry and hassle.
Good luck!