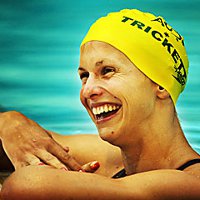 Sydney
, Australian swimmer Libby Trickett won the Olympic games a few times even though her mother and three siblings diagnosed with clinical depression. Libby Trickett Genetically have high risk for experiencing the same conditions, but the swim has been saved her.
Libby Family history of depression revealed 15 years ago when she was only 10 years old. Divorce between the two parents made her brother and three suffered severe mental shock.
The most severe shocks experienced by Libby's brother, Stuart who is now 29 years old. The doctor said he had suffered psychiatric disorders such as anxiety and clinical depression caused by divorce.
Disturbance was allegedly triggered by genetic factors, because the two older sisters Libby namely Victoria (30) and Justine (32) also received a similar diagnosis. The possibility that genes derived from the mother, Marilyn Lenton who are very coincidence also showed symptoms of depression since then.
Although override almost all of the family, the condition does not occur in the sport Libby swimming since a very young age. He was even successful achievement on the world stage, through a number of record and that often he achieved the Olympic gold.
The symptoms that characterize that in fact he has the potential to experience depression reappeared after he backed away from the sport, in December 2009. She described a few months since then as a dark period, when the sense of loneliness began to feel even though he often was among his friends.
"Clinically there are no doctors who diagnose this condition as clinical depression, but my life that I felt really flat and always remember the many moments of loss," said Libby, as quoted from News.com.au, Sunday (09/05/2010 ).
The decision to resign was made at the time Libby was at the peak of success. At that time he had been satisfied and have not had the other goals he wants to accomplish as a professional athlete.
However, because many felt that the pool has helped her through difficult times, Libby is now announced to rejoin the official championship began this September. Looks like she did not want that dark period and then continue developing into more serious mental disorders.
On his decision, a number of award comes not only from the world of sports. A nonprofit organization for people with depression, the Black Dog Institute's Exercise Your Mood Week even named Libby as an ambassador.
Director of the organization, Gordon Parker claimed Libby was amazed at the spirit alive. He hopes that spirit can be emulated by those suffering from depression to further enhance the quality of life.
According to him, sports do not only divert the negative thoughts, but also stimulates the nervous and almost all neurotransmitter that is responsible for various forms of psychiatric disorders. Therefore, depressed patients are encouraged to exercise about 15-30 minutes per day, with the occasional do it in the sun.
In Australia, depression occurs in 1 in 5 adults. Meanwhile, world health organization WHO predicts, these psychiatric disorders might be one cause of disability in the year 2030.