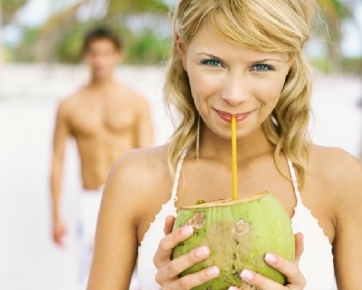 Do you like to drink fresh coconut water? Coconut water is a favorite beverage for most of people, it tastes good and refreshing. But more than that, coconut water has great benefits for health.
Coconut water is nutritious for healthy body. Pure coconut water (no sugar mixture and ice) could be a natural isotonic beverage that can you eat after exercising.
Maybe some of you already know the isotonic beverage products on the market. But it would be safer for the body when you drink a kind of natural. Excerpted from the Health, coconut water contains the same electrolyte with body electrolyte. So it can re-hydrate your body and replace fluids after exercise or heavy activities.
In addition to functioning as isotonic drinks, coconut water also contains calcium, magnesium and potassium that improve blood circulation. Not only that, if you have digestive problems or constipation, drink young coconut water. There are anti-bacterial on coconut water so it can accelerate a function of the digestive system.
As reported by eHow, coconut water can also reduce levels of bad cholesterol, if taken correctly. Take 2 1 / 2 cup young coconut water at breakfast. According to research by the Food and Chemical Toxicology, the results can be seen after drinking coconut water on a regular basis for 45 days.
Coconut water is also good for diabetics. Quoted from the Times of India, coconut water can control blood sugar levels when taken regularly. In addition, young coconut water is also believed to increase metabolism so good to lose weight.