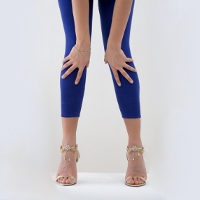 Leggings or tights are not only much-loved and worn by women but also men. But be careful, wear leggings hobby can make you more fat.
Experts have warned that leggings can make the muscles 'lazy', also causes legs wobbly and flabby stomach. All these things can make you put on weight.
"People who wear leggings can feel good and look great and I'm addicted to wear it as much as anyone else. But it turns out it brings a negative thing," says physiotherapist Sammy Margo, as reported by Dailymail, Monday (05/02/2011).
According to Margo, leggings 'hold' and give support to the quadricep (thigh muscle), buttocks and core muscles in the abdomen, and perform work that should be muscle.
"As a result, the muscle (which is supposed to work) are allowed to relax and do not work. So, when we have to take it off (leggings) during the summer, the slender body shape is not visible because the muscles are not working properly," explained Margo.
Margo added, the problem is further exacerbated because users are usually bare-foot leggings and stomach not very aesthetically, so that women who use less road leggings or moving.
"Leggings can hide the body parts we do not like, like cellulite on the legs or 'muffin top' (belly fat) us, so we can ignore this problem and less motivated to do the exercises in this section," explained Margo.
Not only makes you fat, tights or leggings will also be at risk for vaginal health because tights will cause suffering to the vagina.
The most common symptoms of the syndrome of these tights is the change in vaginal discharge that is usually white or yellow color sometimes becomes dense. Then accompanied by pelvic pain, vaginal itching and sometimes skin irritation.